Planners and list makers extraordinaire welcome to my Keeping Me Together 08.2020 post.  Joining my friends Lauren and Rebecca Jo and their buddy Alexandra today for their Keeping It Together link-up.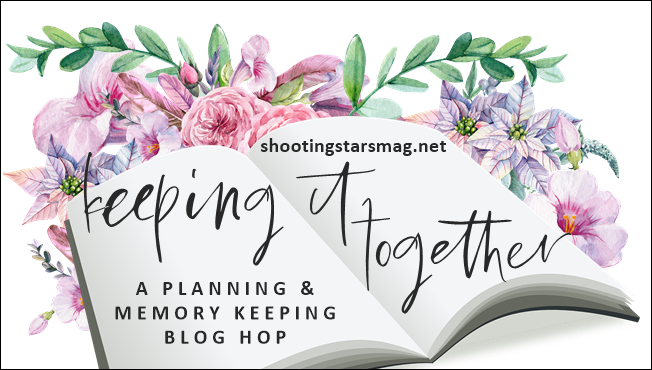 This is the series where we share anything related to scrapbooks, planners, or memory keeping life together in general.  I tweaked the title from Keeping It to Keeping Me Together.  And that, my friends, is a huge proposition.  Exhausting, in fact!!
You can click here to check out my first Keeping Me Together post where I talked about some of the tools I was using at the time to keep myself on top of things.  This year, I have struggled to keep it together.  What?  You, too?  Fancy that!!  I imagine all of us have battled a bit to keep our ducks in a row while everything in our world has felt so out of control.
Keeping Me Together 08.2020
This girl is a veteran list-maker.  Grocery lists.  To-do lists.  Blog post lists.  A list each month of the meals I want to prepare.  Might call that a meal plan, I guess!! I think my list loving is one reason why I hopped right on the Pinterest train and haven't gotten off since.  I look at pinning as a form of list making.  My Books Worth Reading board is a list of books I want to read.  Spic and Span is a board where I have collected (or listed) house cleaning, decluttering and home maintenance tips.
Here's what I am using for keeping me together 08.2020.
The 5 Second Journal
Was gifted The 5 Second Journal by my daughter Brennyn and have enjoyed using it as a bullet journal and to-do list in a spiral notebook format.  The only drawback is that it isn't a calendar.  So I add the date of the week with each entry.  No biggie.  Except when I want to use it to keep track of appointments in the future.  I have to count forward to the date of the appointment then write it in or need to date every page in the book so I can use it as a calendar, too. My solution…buy a dollar calendar for appointments.
This journal promises to help you:
get more done, keep you from procrastinating
focus on the important stuff
build confidence
amp your passion by identifying what fuels your fire
allow you more control over your life and time
boost your mood
I am not sure that it does all of that for me.  But I do like the format.  Have a look.
Across the Top…
For each day, I begin by filling in the time, place and date.  On the day above, I completed this page at 5:50 am in my loft on 08.11.2020.
Today I Feel…
At the top of the journal there's a meter where you identify how you are feeling.  And the reasons you are feeling the way you are.  That helps me reflect on how I am starting out each day.  Did I sleep enough?  Is there something I am worried about?
To Feel More Energized I Can…
If I am starting out the day behind the eight ball, not feeling my best, what can I do to feel better?  How can I feel more energized?  Lots of days the answer for me is exercise.  Going for a walk, doing a video workout can help clear my head of sleep and cobwebs and help me feel ready to tackle the day.
Revisiting my list throughout the day and checking things off as I am accomplish them keeps me jazzed.  And focused.
Today My Top Project Is…
This section is muy importante.
I look over my to-do list and ask myself what really has to be accomplished to day.  Making the bed.  Cooking dinner.  But what are the big goals for the day.  Before your day gets hijacked with menial tasks, identify the top project(s). On this particular day, 08.11.2020, I wanted to be sure to:
This Project Matters to Me Because…
Many times it matters because I want to finish whatever it is.  I don't like unfinished projects.  Although, I have plenty of them hanging fire.  Getting groceries matters because we like to eat.  Because the kitties depend on me for their food.  Exercise matters because I have gotten plump and lazy, and I feel better when I am slimmer and full of energy.
One Small Action I Can Take to Move Forward is…
This is going to sound oversimplified but one small action I can take to move forward is to START.  Take that first baby step.  Make forward progress.  I can work myself into quite a tizzy just gearing up to take that first step.  Especially on crafts and art projects.  It stems from a fear of failure.  If I never start, then I won't make any mistakes.  But I won't ever finish anything either.
And I need to review and revise my list throughout the day.  Lots of times, I make my to-do list, then go for a walk and think of a dozen other things I need to add to it.  Have to remember that my to-do list is a living document.
45/15 Rule
Have you heard of the 45/15 rule?  It is used in interval training – 45 seconds going full blast followed by 15 seconds of rest.  It is also used in studying but in minutes rather than seconds.  Study for 45 minutes, take a break for 15.  You may know it as the Pomodoro technique.  And it can also be done in 25/5 intervals.
I apply it to my to-do list.  Will pick something on my to-do list to tackle, folding the clothes.  Then set the timer on my phone for 45 minutes.  I fold clothes until the timer rings.  Then I select something on my list that I like to do…go for a walk, read, home manicure, water the flowers and I do that for 15 minutes.  At the end of the 15 minutes, I return to my clothes folding or move onto the next task.  It works well toward accomplishing more.
[source]
I use something similar for tidying the house quickly.  Spend 15 minutes per room.  Walk into the room, identify what will make the room instantly tidier and do that first.  Make the bed.  Pick up clothes on the floor.  Put dishes in the dishwasher.  Wipe down counter tops.  Whatever.  Then in 15 minutes, off to the next room.
Today I am Grateful For…
On 08.11.2020, the entry in my photos, I was grateful for my Prince C.'s kisses.  June first, I was grateful to just get up.  Some days, it is the sunshine.  Being home in the morning.  My crockpot.  There's always something to be grateful for.  Remembering those things helps put life in focus.  We remember what really matters, why we are doing the things we do everyday.  Good stuff.
Today I Will Stop Working At…
The journal suggests that you give your workday a deadline and then work backwards in planning the activities of your day.  Because none of my days look the same, I don't plan my activities, hour by hour.  If I did, I would be behind coming out of the gate.  So many of my days depend on the needs of those I love.  When I wake up to text messages that my mom is struggling, all of my best laid plans fall by the wayside as I try to help her from 1,500 miles away.
One of my wellness goals is to unplug by 8:30 pm every night.  It rarely happens.  But during the evening, I will step away from TV, laptop, phone to go for a walk or to work in the yard, sit in the hot tub.  Need to do better on this, though, by keeping better track of my time.
To-Do List
On the right side, I list everything I want to do.  Sometimes I add things that don't necessarily have to happen today – TODAY – but that I want to do in the next few days.  If I don't write them when I think of them, they might be gone forever.
Is the world going to come to an end if I don't make the bed.  Well, maybe.  That's a bad example.  Let me try again.  Is the world going to come to an end if I don't work on my puzzle at lunch?  Nope!!  It hasn't yet anyway.
I almost always begin each day's list with QT-quiet time because my day really do go better when I do that first, and some kind of exercise.  On the days when I am going over the mountain to help with my granddarlings, I need to get up by 5:00 to have quiet time, exercise, fix smoothies, pack PC's lunch and feed the kitties.  I put those things on my list not to remember them…I never forget to feed the kitties.  But so I see all that I completed and feel that sense of accomplishment for even the menial tasks.  Love to make those check marks!!
For next month's Keeping Me Together, I hope to review the Make Over Your Mornings/Evenings courses I purchased the first of the summer.  Hope you will join me then.
Your Turn
Do you have a method for keeping yourself together?  Are you a list maker?  Do you have a favorite planner or agenda?  I am starting to 'planner shop' for 2021.  Would love to know what works for YOU!
Thank you for scheduling a few minutes of your day to be here with me.  I appreciate every visit and every comment.
Hugs and kisses,